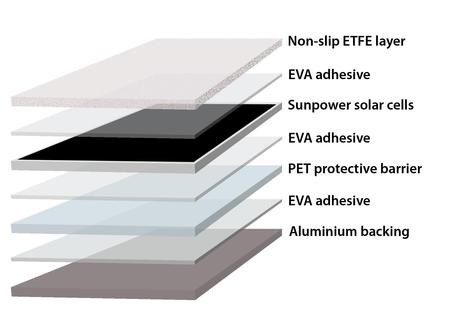 We now have available the next generation of flexible solar panels, the Flex+ range, offering exceptional durability and performance.
FLEX+ Marine grade solar panels are ideal for use in salt-water environments, on boats and yachts. For narrowboats and motorhomes, where the panels are being fitted onto a metal surface, the aluminium backed version of FLEX+, dissipates heat more quickly, giving better performance in high temperatures.
What really makes the Flex+ range stand out from the crowd is its durability. Unlike other, cheaper, flexible solar panels on the market, the FLEX+ uses a new 7-layer laminating process, finished with a top layer of ETFE - other panels typically use PET.
This 7-layer laminating process produces a panel that is just 2.5mm thick, can bend up to 30-degrees and weighs less than 30 grams per watt.
Like our professional grade glass-fronted panels, the FLEX+ range uses the Sunpower monocrystalline solar cells which are 21.5% efficient, giving you a full 100W from a much smaller surface area. In addition to unrivalled efficiency, the Sunpower cells produce more power in lower light conditions, so you get more power for longer.
Low profile
The FLEX+ bonds directly to the surface, without brackets or mounts
Non-slip
The top layer of the FLEX+ is dimpled so the FLEX+ is not only a panel that you can walk over, it is also a panel that you have less chance of slipping off. Compare this to other flexible monocrystalline panels that typically have a smooth surface finish.
Durable
ETFE is a light, durable material that bonds more strongly to the backing sheet than PET.
Corrosion resistant
ETFE is highly resistant to saltwater corrosion.
These 100W panels measure 1100 x 570 x 2.5 mm and weigh just 2.7kg. The junction box is IP65 rated. There are full technical details on each of the product pages.