When Tom Hunt joined Leading Edge in February 2022, he'd seen first-hand the destruction the oil and gas industry had caused and it no longer sat well with him. Tom is an experienced engineer with hands-on at the sharp end. As Head of Sales and Engineering at Leading Edge, he's designing larger off-grid power systems than the company has had up to now, ones that are beefy enough to replace a diesel genset with a fossil fuel free alternative.
Tom is a born innovator. At 15 Tom designed and built a 3m walk-on piano, learning PCB design and electronics. Later, while still at school, he took part in Geronimo, a TV show featuring engineering challenges for budding amateurs – in his case creating an amphibious car based on a Mini engine.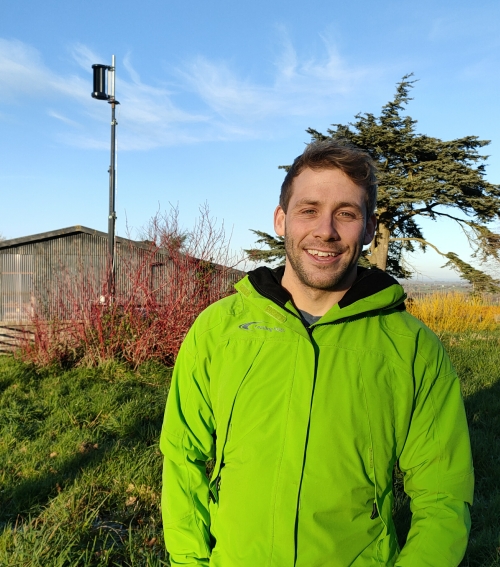 Tom's first job was an engineering apprentice with Baker Hughes, back then it was Allen Gears. The Pershore division where he worked designed and manufactured power transmission gear boxes for gas turbines and steam turbines with power outputs up to 150MW.
The apprentice programme gave Tom experience in the design, manufacturing, testing and production departments. The precision engineering, with working down to 10micron tolerances, was a demanding environment to work in and quality procedures were essential in the manufacturing process.
Five years after joining the company, Tom moved into the Services team and became a field services engineer. No day was the same as he worked across four continents visiting customer sites to commission systems. The gear boxes are huge pieces of kit, weighing up to 25 tons, so getting the rigging right to manoeuvre the systems into place is quite a feat. Tom gained experience of non-destructive testing, fault finding and diagnostics. It was a tough environment to work in, a 48-day assignment on an oil rig off Russia's Siberian coast makes him appreciate the creature comforts of home!
Now at Leading Edge, Tom is heading up the team developing one-stop shop solutions for our commercial clients. From initial consultancy matching customers' requirements with the art of the possible, he then takes the ideas to design, then build and installation.
As well as designing a new generation of more powerful wind turbines, Tom is developing trailer based, mobile systems with 1kW solar arrays and integration of fuel cells (hydrogen and methanol) to support a power load that would have been the territory of a diesel generator.
The Leading Edge British-made wind turbines and small solar arrays are ideal partners where there's no local source of power and equipment such as scientific, broadband, radio communications, CCTV need a robust and reliable power source.
Now, the company is moving into markets such as Construction where traditional fossil fuel power sources need to be replaced by clean renewable power sources. Tom is bringing his appetite for innovation and a track record of solving hard engineering problems to a Zero Carbon future.