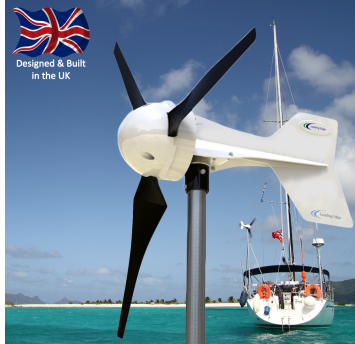 Today is the first day of Spring and yacht and sailing boat owners are busy getting their craft ready for the 2019 season.
With all of us looking to reduce our reliance on fossil fuels, the demand for green power generation has never been stronger.
Why not reduce the need to run the engine to keep batteries topped up by choosing ever more efficient marine solar panels - glass-fronted, walkable semi-flexible and flexible panels. Maintenance-free and highly affordable wind generators are a common sight on bluewater cruising routes.
Marine wind generators
At Leading Edge, you can choose between the traditional horizontal wind generator often mounted on the back of a boat and the compact vertical turbine that's totally silent and mounted neatly onto a mast, safely out of the way of a crowded deck.
Our British made LE-300 Marine and LE-450 horizontal axis wind generators both have a 1m rotor diameter and are appreciated for their quietness (read the case study). LE-300 Marine is considered the best value wind charger with the lowest cost per watt according to Practical Boat Owner magazine, while the LE-450 is the most powerful small wind turbine with a 1m rotor, able to provide meaningful power levels at everyday wind speeds of 5-8m/s (11-18mph).
The vertical marine wind generators are trickle chargers, protecting the batteries when you're not using the boat. The LE-v50 and its bigger brother the LE-v150, are virtually indestructible and can be left to run through storm conditions!
Marine solar panels
First of all, check the solar panels designed for the corrosive marine environment. Next choose panels with the highest possible cell efficiency.
Our saltwater-resistance, glass-fronted DC-Solar panels have SunPower monocrystalline cells (with a 21.5% cell efficiency) that will continue producing energy in even low light conditions and high ambient temperatures. All solar panels become less efficient when the 'in sun' temperature reaches 50 degC, but these ultra-efficient solar cells maintain its efficiency far better than many cheaper models.
If you are looking for solar panels you bond to the deck and can walk on without slipping, then the Solara marine solar panels with a 21.5% cell efficiency and the Flex+ flexible panels are worth a closer look. Our off-grid experts are always on hand if you'd like some advice on which panels would best fit your needs and size of available space.