This year, Leading Edge is celebrating 10 years in business, delivering "Local Power Worldwide".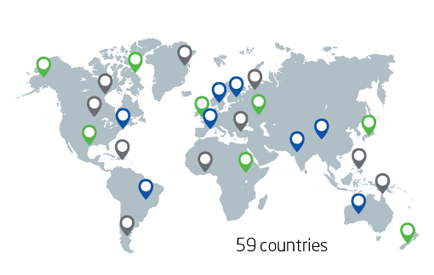 During this time, we have supplied our wind turbines to customers - large and small, end users as well as large organisations - in over 59 countries, on all 7 continents.
We pride ourselves in developing wind turbines that will survive the most challenging environments. Our LE-v50 Extreme and LE-v150 Extreme vertical axis wind turbines are testament to this, warranted to wind speeds of 35m/s (80mph),
From our headquarters in the UK, we know first hand how destructive the wind can be. Yet many of our customers regularly experience storm force winds and need a solution for harsh locations - to power meteorology and environmental monitoring equipment in Antarctica or radio repeaters on the western coast of Scotland.
Our R&D programme over the past 10 years has focused on developing unique solutions for these locations - leading to our vertical axis wind turbines - and to further ruggedising existing horizontal axis wind turbines. See our 10 year timeline showing key moments in our history.
In 2017, we introduced a plug and go off-grid power system, the PowerBox. This is a pre-configured solution comprises solar, wind turbine, batteries, inverter/charger and controllers all packed into a pallet-sized container. In less than an hour, you can set up a complete hybrid power supply, with the option of an autostart backup generator, or even a methanol fuel cell.
We believe our wind turbines, in combination with best-in-class 12V DC solar panels give you the "leading edge" in providing off-grid power solutions for any remote location. Our off-grid experts are on hand if you'd like advice on what is the best solution for your particular needs.