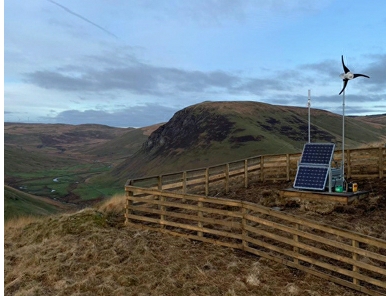 Here is a great off-grid installation featuring the Leading Edge PowerBox™. This bespoke off-grid power systems is a stand-alone self-contained unit delivering a 50W continuous load, even through the Scottish winter.
The PowerBox is running a 4G broadband network on the top of a hill, to the valley below in Dumfries and Galloway, Scotland.
Helicoptered into position, the kit has 280W of on-board solar panels and the Leading Edge LE-600 horizontal axis wind turbine providing renewable power for the wireless equipment with a 500VA inverter charger for AC loads.
Delivered over the pallet network, the PowerBox is the only complete hybrid solar-wind on the market that fits into a single enclosure, can be easily transported on one standard pallet and setup in less than an hour on-site.
"ETGB was over the moon with how Leading Edge worked with us, from the design stage right through to the way they dealt with any teething issues. Great service provided by the Leading Edge team, thank you." James Aitken, Director of ETGB.
PowerBox is one of those products that has so many possible uses that it is impossible to write a comprehensive list. However, some applications include:
telemetry and environmental monitoring
remote weather monitoring (LIDAR)
rural WiFi and radio repeater stations
CCTV and security systems
Disaster relief - laptop/phone charging, lighting
UPS and backup power supplies