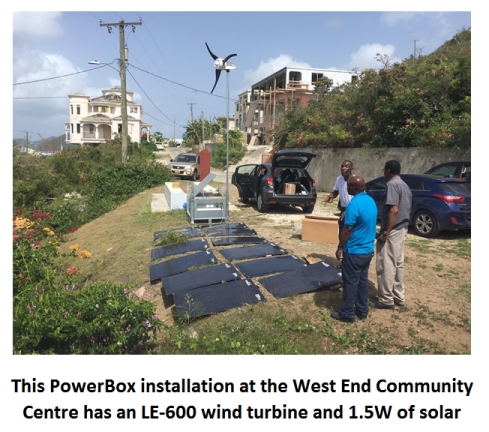 Getting power back online after a disaster is essential – for relief operations so teams can communicate and allocate resources to where they are needed most, for medical teams providing first aid and to power water purification equipment.
Renewable power comprising a hybrid solar/wind system provides essential electricity to help a community get back on its feet. The system doesn't require fuel to keep it running, an important factor as fuel soon becomes scarce in a disaster.
At Leading Edge, our PowerBox doesn't require any specialist technical knowhow. They are pre-configured and ready-to-go with an on-board inverter to support AC equipment. The PowerBoxes can be pre-loaded into warehouses in disaster-prone areas and then quickly commissioned to support the relief effort.
One such example of this is the installation of four PowerBoxes in the British Virgin Islands, ready to provide remote power when the next hurricane hits. Provided by the disaster relief charity, Team Rubicon UK, each PowerBox supplies 120V AC electricity for emergency shelters and medical facilities via an on-board 3000VA inverter/ charger. Read more in the case study.