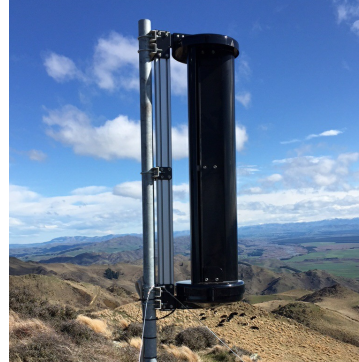 Our toughest wind turbine, the LE-v150 Extreme, has got even tougher with the introduction of stainless steel rotor blades to this vertical axis wind turbine.
Perfect for use in applications where a traditional horizontal axis turbine simply couldn't survive prolonged periods of storm-force winds, the LE-v150 Extreme is suited to powering industrial and research equipment in mountainous areas or coastal sites.
We recommend this wind turbine when the average annual wind speed is 8m/s or more and winds can gust to 35m/s - 80mph. Glencoe Mountain Rescue Team, Shetland Broadband and Scottish Communications are a few of the organisations already benefiting from this latest version of the LE-v150 Extreme.
Here are some case studies showing the different applications for this vertical axis wind turbine - powering radio repeaters off the coast of Scotland and avalanche protection equipment in Norway.
The LE-v150 Extreme turbine features stainless steel rotor blades and enhancements that reduce the stress and fatigue on the blades during prolonged periods of storm-force winds. The overall turbine RPM is reduced while maintaining the same power output as the standard version of the LE-v150.
The wind turbine is ideal for use in sub-zero temperatures as the black body absorbs UV light to help prevent ice build up and the low-temperature bearings allow the turbine to continue generating power at temperatures down to -40 degC.
Our off-grid experts are always on hand if you'd like friendly advice on which of our wind turbines is suited to your application. We look forward to hearing from you.