With gust of 70+ knots the lookout station at National Coastwatch St Agnes Head in north Cornwall UK experienced some pretty harsh storms this past winter. Having killed off 3 horizontal axis turbines the Coastwatch station turned to the more robust design of an LE-v150 vertical turbine to provide much needed power.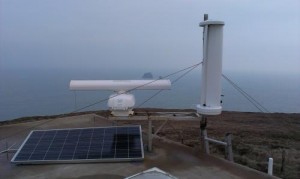 Typical of many Coastwatch stations St Agnes Head is an off-grid location so has to rely on solar PV and wind to power radar marine radios an iPad and other equipment with a total load of 120W between the hours of 8.00-17.00 daily (8.00-20.00 in the summer months).
Although 240W of solar PV has been installed at the station this doesn't generate enough power during the shorter winter months so wind generation is essential in topping up the balance.
'The compact design and silent running LE-v150 turbine to date has been doing a fine job' said Phil Ashman manager of NCI St Agnes Head. 'Our next step is to add to our 2 solar panels which when used in conjunction with the new turbine will hopefully get us through the winter with a more reliable power supply.'
The LE-v150's design is based around a cross-ventilated 'savonious' rotor design coupled to a 3-phase axial flux permanent magnet generator. During high winds the savonious rotor system reaches a stall point where it is no longer able convert the kinetic energy of the wind into rotational energy on the alternator shaft. This prevents the turbine becoming burnt out during prolonged periods of high wind speeds.