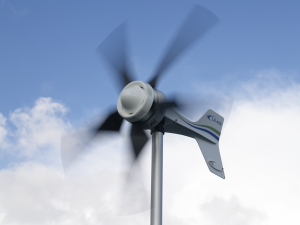 The LE-450, new 450W wind turbine from Leading Edge Turbines sees its first outing at the METS show in Amsterdam next week 18-20th November 2014. Come and see us on Stand 3.420.
This turbine is the most powerful small wind turbine with a 1m dia rotor on the market today able to deliver exceptional power at in everyday winds of 5-8m/s (11-18mph). With a power output of 105 Watts at 8m/s (17mph) the turbine can generate up to 450 Watts in strong winds.
The LE-450 horizontal axis wind turbine addresses the increasing demand for power on small scale off-grid renewable energy systems powering security telecommunications lighting signage telemetry and off-shore applications. Fully optimised for marine conditions the LE-450 is ideal for supplementing the power supply on-board a sailboat or yacht and provide energy when solar PV panels are unable to operate effectively -- during Winter or overnight.
'The challenge is to design a compact wind turbine that delivers real power in every day winds yet can survive storm conditions' said Dave Samuel Managing Director of Leading Edge Turbines.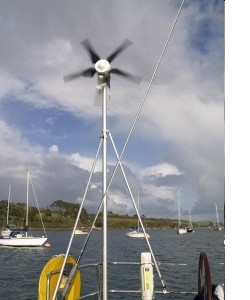 The LE-450 builds on the company's heritage of designing robust and reliable wind turbines for some of the world's harshest environments. 'What we've done with the LE-450 is to increase power output in winds of 5-8m/s (11-18mph). Using 5 blades and fine tuning the alternator we are able to extract the right amount of torque at the right RPM to give us superior transfer of power from the wind' continued Dave Samuel.
The LE-450 generates the same power output as other wind turbines with blades up to 1.2m long making it the most powerful wind turbine for its size. It is suited for telecoms towers and CCTV stations where space is at a premium.
LE-450 is quiet and has the same Whispower(TM) blades as used on the 3 blade LE-300; a wind turbine that is renowned for its low acoustic emissions. Using a passive aerodynamic design the LE-450 limits its RPM during high winds so there is no danger of it spinning out of control or over-heat.
The LE-450 is designed and manufactured in the UK and comes with a 2 year warranty. The new turbine is available from January 2015 2014 in 12V 24V or 48V versions each priced at £740.00 +VAT.