The new series of the Channel 4 show Gadget Man featured our LE-300 wind turbine on a survival raft built to withstand the meteorological apocalypse doing what it does best - battling the elements and continuing to provide power whatever the weather throws at it!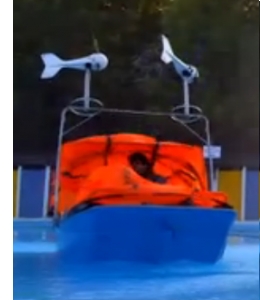 In the first episode of this new series Richard Ayoade takes on the worst of the British weather. With the help of pun king Tim Vine he braves a hurricane in a wind tunnel to assess the best in gust busting gadgetry and to help him pressure test the finest cold weather technology. Richard is joined in the wilds of the Hemel Hempstead Snow Centre by comedian Marcus Brigstocke culminating in some hilarious results.
The show climaxes with Richard revealing his bespoke survival raft built by his technical team to withstand the meteorological apocalypse that he's convinced is just around the corner.