24V Solar Panel 135W Professional Monocrystalline CS-135-24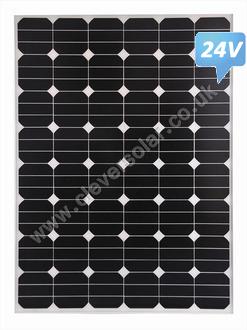 24V Solar Panel 135W Professional Monocrystalline CS-135-24
Product Information
The Professional Grade CS-135-24, 24V solar panel is a 24V version of the incredibly popular 135W CS-135, with all the benefits of our ultra high-efficiency monocrystalline solar panels, but allowing you to operate at 24 volts without the need to connect panels together in series, or use an expensive MPPT controller.
At 135 watts, the CS-135 24V solar panel is ideally suited to medium power installations, such as a touring caravan, motorhome or boat. Typically 135W is sufficient to run a TV/radio for a few hours a day, low-energy lighting, a small water pump and general day-to-day charging of mobile phones and laptops, etc.
The Professional CS-135 features the latest solar cell design from the US and high quality finish, which allows you to use this solar panel in all weather conditions. Unlike cheaper models available on the market, the CS135 produces a far higher voltage per cell, is less affected by low light and, in high summer temperatures, maintains a high power conversion efficiency.
Due to popular request, we now offer our professional solar panels with or without our 5 metre 'clever-clip' cable set.
This solar panel is 'Power guaranteed' for 25 years.
Key Professional Grade Features:
Sturdy anodised aluminum frame with mounting holes to match the industry norm enables easy installation on currently available mounting structures.
Unique back-contact solar cells with conversion efficiency up to 21.5%
Low voltage-temperature coefficient ensures maximum battery charging current is available even during high-temperature operation.
Exceptional low-light performance and high sensitivity to light across the entire solar spectrum maximises yearly charging performance in any weather.
Highest quality 4mm-thick high-transmission tempered glass provides enhanced stiffness and impact resistance.
Aerospace style cell interconnects with in-plane strain relief provide extremely high reliability.
Advanced EVA encapsulation system with multi-layer backsheet provides excellent long-term package durability.
25 years warranty on power production.
Technical Specification
Specifications 

Model: CS-135
Peak Power: 135W
Rated Voltage: 39.6V
Rated Current: 3.28A
Open Circuit Voltage: 48.2V
Short Circuit Current: 3.56A
Series Fuse Rating: 14A
Maximum System Voltage: 70V
Temperature Co-efficient - Power: -0.38%/ēC
Temperature Co-efficient - Voltage: -135.0mV/ēC
Temperature Co-efficient - Current: 3.5mA/ēC
Module Efficiency: 21.5%
Weight: 12.0 kg
Unit Dimensions: (mm) 1082 x 796 x 35
(Specifications at standard test conditions (STC) - STC is defined as: irradiance of 1000W/m2, spectrum AM 1.5g and cell temperature of 25ēC)
*All technical specifications and images are correct at the time of publication, but are subject to change without notice.