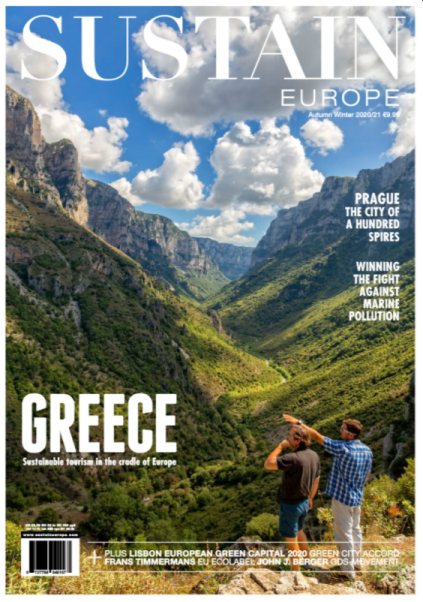 Solutions for Broadband and Radio Communications
Providing broadband to rural areas across the world presents a problem: how do you supply power for the fixed wireless equipment such as relay sites and repeater stations in remote locations? Leading Edge has the answer. It designs bespoke off grid power systems using its highly durable and reliable British-built wind turbines and ultra-high efficiency monocrystalline solar panels. If installation needs to be on hills or mountains, Leading Edge's LE-v50 Extreme and LE-v150 Extreme turbines are ideal, as these vertical wind turbines are designed for winds of up to 35m/s (80mph) and temperatures down to -40◦C.
Where power loads are between 30-60W, and in less harsh environments the more traditional LE-300 and LE-600 horizontal wind turbines are used to deliver the power required. Customers have included Shetland Broadband, Speednet Scotland and Badenoch Broadband in the UK, Amuri.net and Primo Wireless in New Zealand and Valley Internet in the USA. The LE-v50 Extreme can also power radio communications in remote locations, such as the highest peak in the extensive Cuillin mountain range on Scotland's Isle of Skye, where winds can reach 136mph.
Here, a radio repeater is vital to ensure messages reach hidden valleys that are communication black-out zones, allowing the Skye Mountain Rescue Team (SMRT) to get help quickly to the right area. "Rescuers are dealing with life and death situations, so getting a message to the base station at Sligachan or Glen Brittle, pinpointing where the casualty is and what sort of medical assistance is needed, is critical. Without a fully operational radio repeater powered by the LE-v50 Extreme, none of this would be possible," says rescue team member Chris French. The Skye team invested in the LE-v50 Extreme after it was recommended by another Scottish rescue team, Glencoe Mountain Rescue.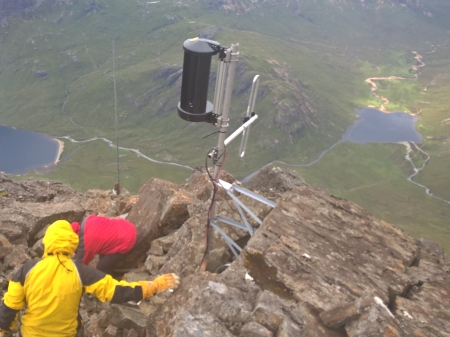 The VHF radio repeater draws 25W when it's transmitting and has a range of 15 miles, but most of the time it uses just 30mA (0.4W); a low power load that doesn't drain the batteries and allows the wind turbine to keep the batteries topped up, inputting power into a 110Ah deep-cycle AGM battery "During the summer, rescue teams are out on the mountains two or three times each week," commented Chris. "Many people not only have our brave rescuers to thank but also the technology that makes their rescue possible."
Powering Remote Research
UNAVCO, a non-profit university governed consortium, facilitates geoscience research and education using geodesy. The consortium operates a GPS survey system at McMurdo Station in Antarctica—a remote and hostile location. Here, extensive scientific monitoring equipment records geophysical and meteorological data thanks to power supplied by solar panels and an LE-v50 Extreme wind turbine. 'Polar' versions of the LE-v50 wind turbine are black so that they absorb the maximum amount of the limited solar radiation, helping to reduce the build-up of rime ice on the turbine blades and body—a definite plus in Antarctica!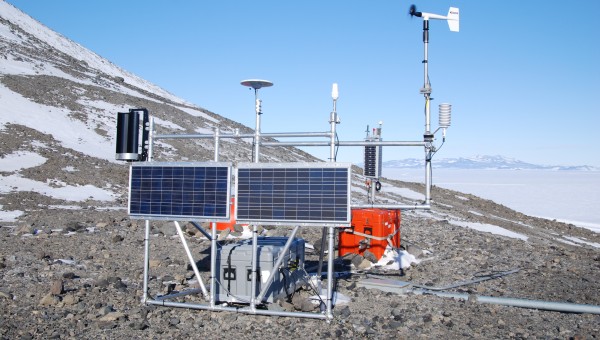 The Best of British, Famous Worldwide
Leading Edge has grown from its humble beginnings as designer and producer of just one wind turbine—the LE300—to a world-famous producer of innovative off-grid solutions. From its British base in Herefordshire, it now supplies innovative green power systems that are installed around the world, powering everything from rockfall monitoring systems in the Alps to buoys in the Black Sea, and providing the necessary energy for day-to-day living in all kinds of homes: a cabin in Norway, a riverside house in South Africa, and various boats, barges and canal boats! With customers in 59 countries, an array of green tech solutions under their belt and the ability to revolutionise the way communities, businesses, organisations and individualsobtain their power,
Leading Edge is now a company that's genuinely where its name declares it to be—on the leading edge of off-grid power technology and supply.