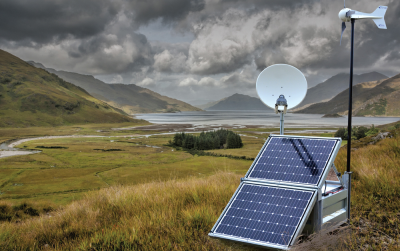 This year at Meteorological Technology World Expo we will be showing the 2018 edition of the PowerBox™, our off-grid power system, which now has the EFOY Pro 800 and EFOY Pro 2400 fuel cells integrated into the unit for customers that require extra power.
Designed for operating low power AC or DC equipment, the PowerBox has everything needed to provide remote power fitted neatly into a single, pallet-sized box.
The PowerBox is easy to transport and quick to deploy – in less than an hour, you can set up a complete solar-wind hybrid power supply, with the methanol fuel cell and 10 litre fuel cartridges pre-installed in the unit.
Providing essential power in remote locations, the PowerBox is typically used when the daily power requirement is up to 840Wh (35W continuous over 24 hour period). With the addition of the EFOY fuel cells, an additional 20KWh energy production is provided.
Applications include:
- Meteorological monitoring
- Seismological surveys
- Environmental monitoring
Our expertise is in designing bespoke off-grid power systems that provide power 24/7 to meet the requirements of your equipment. We use our own British made wind turbines and combine these with solar panels, DC battery banks, inverter-chargers and backup generators/fuel cells, which can be programmed to start and stop automatically if battery levels should get too low.
As well as horizontal axis wind turbines, we manufacture two vertical wind turbines, the LE-v50 and LE-v150, which can withstand storm force winds that would otherwise destroy a traditional wind turbine. These are ideal for powering equipment sited in mountainous areas, by the coast or offshore. The Extreme version of the LE-v50 and LE-v150 are proven in the severest environment, the Antarctic, and are designed to withstand wind gusts up to 45m/s (100mph).
Our customers include Finnish Meteorological Institute, Environment and Climate Change Canada, Van Oord Offshore Wind Projects, Alaska Volcano Observatory and British Antarctic Survey.
Do come and see us on Stand 5060.