Our LE-600 wind turbine stars in what is probably the coolest off-grid living space you'll ever see - the egg-shaped Ecocapsule. Designed and produced by Nice Architects in Slovakia it is bound to be a hit with those looking for an away-from-it-all self-contained place to hang their hat.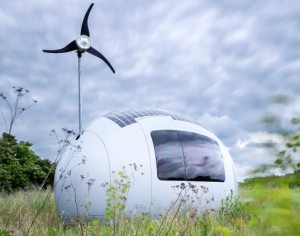 This wind and solar-powered pod has an on-board 9744Wh battery powered by the LE-600 wind turbine and 600W of solar flexed over the curved top enabling it to operate completely off-grid. A dual-power system offers an additional source of electricity during periods where there isn't sufficient sunlight or wind.
Tardis-like inside the Ecocapsule includes a double bed kitchenette storage space and bathroom with a shower and a toilet that collects bio waste. The structure's rounded shape helps to collect rain water which is then purified with a built-in filtration system.
So who is the target market? The photo of a cluster of Ecocapsule's on a beach has the designers' sights set on their use within the leisure industry - as a tourist lodge perhaps or as an alternative to Yurts seen at Festivals. They could equally be used as a humanitarian refuge or even an independent research station.