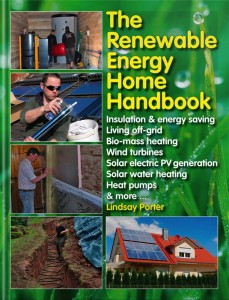 A new practical manual released this month - The Renewable Energy Home Handbook - was written with input from Leading Edge.
The Handbook is a step-by-step practical guide to choosing and installing renewable energy projects produced with 'key advice from leading experts' says the publisher one of whom is Leading Edge.
In his introduction the author Lindsay Porter writes: 'Leading Edge Turbines combine high standards of engineering with a refreshing honesty about the limitations as well as the advantages of domestic wind turbines...They're passionate about renewables. They're incredibly well informed. And they're as honest as they come!'
Leading Edge worked with Lindsay on the chapter regarding wind turbines and is pleased to be involved with a project that encourages 'clever customers': '...those who understand enough about the subject to be able to contribute to the decisions that have to be made.'
The book also covers insulation and energy-saving living off-grid biomass heating solar electric PV generation solar water heating and heat pumps.
Taking an in-depth look at the pros - and cons - of each type of installation the Handbook facilitates a complete understanding of each system allowing the reader to determine what is best for their lifestyle and home.
Lindsay is one of the country's foremost technical writers with over 40 years' experience in eco-homebuilding. His first piece of professional writing was an article for DIY Magazine in 1979 entitled 'We built it our way' about the construction of his country cottage. During their DIY research in the off-line world of the 1970s Lindsay and his wife Shan were inspired to follow the Swedes' advanced approach to house insulation; even 40 years ago it seemed obvious to build that way and avoid another 'universal gas-guzzling' house.
The Renewable Energy Home Handbook is published on 20 February 2015 by Veloce Publishing UK price £24.99 and is available from all good on- and off-line bookshops.
Visit www.veloce-eco.com to read Lindsay's housebuilding journey blog and buy the book.