If you are going to the METS 2013 marine exhibition in Amsterdam next week (19-21 November) then do drop by our stand and have a look at the new LE-v150 turbine.
We're in Hall 3 the British Pavillion on Stand 418.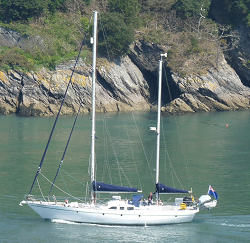 The new LE-v150 provides the much need power for battery charging yet its compact vertical design means it fits neatly onto a mast to create a sleek outline. With a power output of 24 Watts at 8m/s (17.8mph) and max output of 200 Watts in strong winds the LE-v150 is the most powerful vertical axis wind turbine for the marine market.
The advantage of the vertical axis design is that the LE-v150 creates no noise whatsoever when the turbine operates making the turbine attractive to those who enjoy peace and tranquillity on the open seas.
The LE-v150 is ideal for supplementing the power supply on-board a vessel and can help to provide power when solar PV panels are unable to operate effectively (during Winter or overnight). The turbine is invaluable in maintaining and charging batteries when the boat is not occupied and assisting in powering long term energy draws such as ultra-sonic anti-fouling systems. Importantly the LE-v150 helps to increase the useable life of expensive marine batteries.
The LE-v150 will receive the wind from 360 degrees without the need to yaw into position. Based on the same design as its smaller brother the LE-v50 which has survived 120 mph Antarctic winds the LE-v150 will still keep on charging even in the harshest of conditions.
The turbine is marine quality finished for the corrosive marine environment with bearings sealed for life and fully lubricated so no greasing or maintenance is required. With only 1 moving part and no brushes or slip-rings to wear out the turbine could easily run for 20 years or more.
Designed and manufactured in the UK the LE-v150 comes with a 2 year warrant and is available from the end of November in either the 12V or 24V version each priced at £699.99.