The new LE-600 2014 Edition wind generator features a number of product enhancements that increase power output at high wind speeds yet has a very low cut-in speed so it generates power at 3m/s (6.7mph).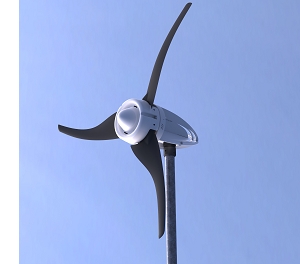 Aimed at off-grid applications such as remote telemetry signalling telecommunications off-grid lighting and off-grid residential the LE-600 generates 160W at 8m/s (17.8mph) with peak output of 750W at 18m/s (40 mph).
New features of the LE-600 2014 Edition include:
New coil & stator configuration -More output less 'hum' lower weight even higher reliability
Alternator Upgrades - Even more reliable on high wind sites.
New Nose cone design - More compact better alternator cooling easier to fit.
New moulded weather shield - Better protection from the environment whilst providing good cooling to the alternator.
Improved rotor blade design - Improving overall energy production.
Lighter weight - Now weighs 3kg less making installation cheaper and easier.
The latest version of this popular wind turbine include changes to the nose cone and weather shield that make the turbine even more aesthetically pleasing and compact. The 2014 Edition is available now through our dealer network and the Leading Edge Turbines web shop.
The LE-600 features WhispowerTM blades which use an advanced aerofoil blade design to reduce acoustic emissions to just 6 decibels above the sound of the wind making the turbine the quietest in its class. The lightweight turbine head makes it easier to install on high masts and reduces the cost of mounting structures while the 'Downwind' layout provides small visual impact and good yaw performance in turbulent conditions.
All Leading Edge Turbines are designed and manufactured in the UK and built using stainless steel and aluminium alloy with sealed for life bearings to give high performance in all environments.