Sunware FOX-220 12/24V 20A Solar Charge Regulator (with night light)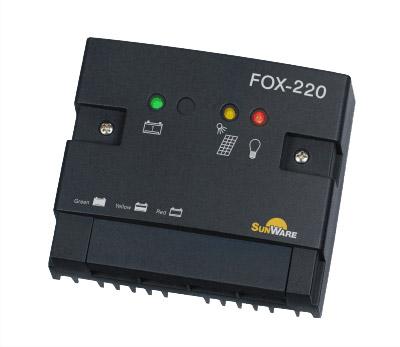 Sunware FOX-220 12/24V 20A Solar Charge Regulator (with night light)
Product Information
The FOX-220 is a solar charge controller for modulated currents up to 20 A, suitable for AGM, gel and lead acid batteries. Consumers can be connected up to a current consumption of 20 A maximum. The adaptive total discharge protection monitors and protects the battery against damaging total discharge, and alternatively the nightlight function can be used. When using the nightlight function, a consumer will be switched on during the time the modules do not supply charge current (i.e. when it is dark). Ideal for the operation of an orientation light or small lights for the prevention of break-ins.
The optimised charge characteristic curve in combination with the hardware PWM control achieves a distinctly faster and gentler charging of the battery; hazardous gassing or overcharging are safely prevented.
On switching on, the controller recognises fully automatically whether a 12 V or 24 V battery system is connected. The active battery cut-out ensures the protection against reverse current and allows for an extremely low voltage drop between module and battery.
The charge controller can be operated in parallel to other charging devices (such as alternators, generators, fuel cells).
Modules of all manufacturers can be connected to the controller, the no-load voltage of the solar modules must be lower than 50 V (see type plate of the module).
The LEDs at the front of the controller give information on the charging state of the battery, status of the consumer connection and whether a charge current is flowing from the modules or whether the battery is fully charged.
12V / 24V system voltage
320 Watt solar power (640W at 24V)
20A overcharge protection
LED indicators
covert terminals
simple installation
terminals for 16mm wire
The Multi Display FOX-MD1 can at any time be connected to the FOX-220 by simple plug-in. This allows the current voltages and flows to be displayed, even graphically. The programming function of the FOX-MD1 enables you to change and save various parameters.
Technical Specification
| | |
| --- | --- |
| System voltage | 12 / 24V |
| Operating voltage | 8.5 - 35V |
| Power requirement | 12mA (15mA with MD1 display) |
| Overcharge protection | max. 20 A at 25 °C |
| Temperature compensation | -20mV / °K @ 12V,-40mV / °K @ 24 |
| max. Terminal voltage | 50V (Voc Module on label) |
| Max discharge. | 20 A at 25 °C |
| Battery switch relay | bistable |
| VA screw terminals | max. 16mm2 |
| Voltage drop | 0.0 to 0.27 V (at 0 - 20 A) |
| Protection class | IP 22 |
| Operating temperature | -25 °C ... + 50°C |
| Dimensions | 126 x 107 x 55mm |
| Weight | 300g |
*All technical specifications and images are correct at the time of publication, but are subject to change without notice.