Sunware FOX-100 LED 12/24V 8A Solar Charge Regulator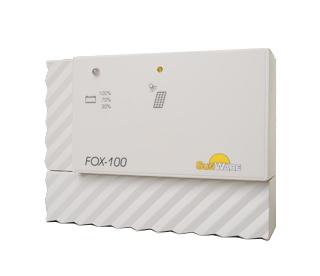 Sunware FOX-100 LED 12/24V 8A Solar Charge Regulator
Product Information
The FOX-100 is an efficient, easy to use, surface-mounted solar charge regulator for use with any of the Sunware or Flexcell marine solar panels. The regulator automatically switches between 12 and 24V systems and has a simple LED display showing the battery condition and system status. The Fox-100 is fitted with an over-charge and reverse current protection system to avoid any damage to either solar panel or battery.
Main features:
12V/ 24V system voltage
96 Watts solar power @ 12V, (192W @ 24V)
8A current input (16A over charge protection)
LED Display of battery condition and panel operation
simple installation
reverse current protection
A solar charge regulator has to control the battery voltage. In a 12 V battery system the voltage can vary between 10.0 V and 14.4 V depending of the actual state of charge of the battery, charge current, discharge current and the age of the battery. With out load, the battery voltage is about 12.4 V to 12.6 V. When the solar panels produce energy the current is flowing into the battery and by the time the voltage level increases up to about 14.1 V. At this level, the FOX reduces the charging current (by pulse wide modulation). The Fox-100 continuously adjusts the charge current current according to the voltage to prevent any 'gassing' of the battery, whilst at the same time charging the battery in the most efficient way.
LED Indictor:
The actual charging level of the battery
The three color LED shows by the color the voltage level of the battery:
a) green = voltage > 12.5 V battery charged
b) yellow = voltage > 11.0 V and < 12,5 V battery normal
c) red = voltage < 11.0 V battery nearly empty