At Leading Edge, we have over 12 years' experience designing and supplying complete off-grid power solutions for use in remote locations.
The systems we design are often bespoke, sized according to the power requirements of your DC / AC equipment, with remote monitoring an option.
We have three pre-configured, self-contained off-grid power solutions - PowerBox Smart BaseStation and SolarBox. Each offers different power outputs and options for integrating your equipment into the battery charging solution.
The Leading Edge off-grid systems combine our UK-made wind turbines alongside solar. Taking the power load of your equipment as the starting point, we design an off-grid power solution that will provide power 24/7.
Here are the building blocks for a typical off-grid solution
Wind turbine - our British-made wind turbines renowned for durability and reliability
Solar panels - professional-grade solar panels featuring high efficiency Sunpower solar cells
Tower - Lattice or tilt-down to mount the wind turbine and your equipment, ground screws allow fast installation
Batteries - hard working deep-cycle AGM batteries store power even in sub-zero temperatures
Enclosures - GRP enclosure, IP65 or IP66 rated, contain controllers and your equipment
Bespoke - Options include remote monitoring, inverter/chargers, DC-DC conversion
Fit and Forget power
Power wherever you need it
Ideal where bringing grid connected power on-site is either too expensive or simply not an option. Site visits are not necessary - get remote access to monitor system performance.
Power 24/7, no matter the weather
Tap into our off-grid expertise and get peace of mind the solution we recommend will produce power whatever the weather throws at it. Our range of horizontal and vertical axis British-made wind turbines enables us to choose the right product for the location you have in mind.
Clean, renewable energy
Our Eco friendly solutions enable you to play your part in reducing climate change. If a back-up generator is required choose fuel cells, the green alternative.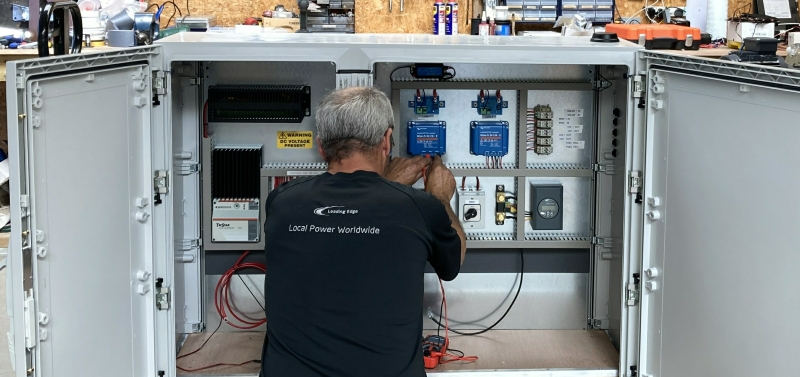 Our professional services include providing pre-wired control boards in GRP enclosures
Wind and Solar are perfect partners
As this graph shows solar and wind complement each other - during the winter months, wind can provide more power input than solar.
All our systems are battery-charging. Typical applications include:
Off-site telemetry equipment, such as water level monitoring on reservoirs
Data communications systems (broadband, radio comms, etc)
Meteorological data logging and seismological surveys
Construction security cameras and perimeter monitoring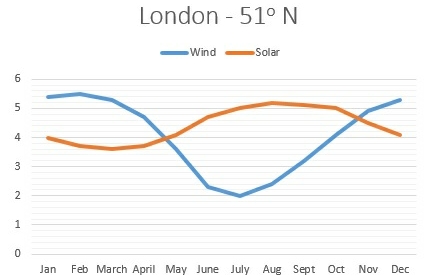 At Leading Edge, our professional and personal service includes a bespoke design service, offering unrivalled expertise within the off-grid market. Read about our approach to designing an off-grid power solution tailored to your requirements.
We're ready to assist you right now...