At the WWEM 2016 exhibition and conference today, Leading Edge Power launched the PowerBox, an all-in-one power source, fitted neatly into a pallet-sized box, providing power for equipment installed on remote sites with no mains electricity. Equipment ranges from telemetry and datalogging equipment, radio repeater stations and security cameras to emergency power for Disaster Relief and remote weather monitoring equipment (LIDAR).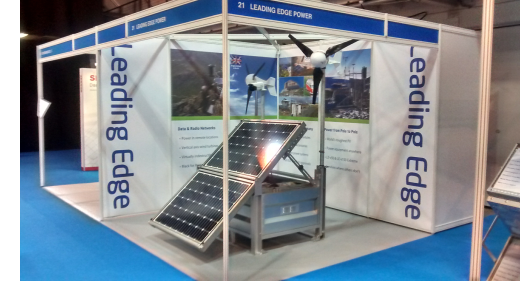 This hybrid wind-solar power system is more powerful than just solar or wind alone. The on-board Leading Edge LE-300 wind turbine will generate 0.5kWh-1.5kWh of power a day and the 2 x ultra-high efficiency 140W panels made from Sunpower cells can generate over 1.5kWh a day during the summer.
The PowerBox is easily transported to site – it can even travel in the back of a pick-up. Once there, it can be deployed in less than an hour; the two solar panels are unfurled, the wind turbine installed and the mast tilted up – all that remains is to connect the equipment to the box. No specialist technical knowledge is required as the system is pre-configured and ready to go.
Designed to be durable in some of the world's harshest conditions, the on-board industrial-grade deep cycle batteries and control equipment are housed in a galvanised steel enclosure. As standard, the PowerBox is supplied with four 120Ah AGM batteries which can be configured for 12V, 24V or 48V. Two further batteries can be added to increase the reserve 'in the tank' and keep equipment running.
Despite being in a far-flung location, the performance of the PowerBox is easily monitored via a web portal. The full specification PowerBox is fitted with the innovative Victron Color Control GX and via either a WiFi receiver or 3G/4G dongle, live data is transmitted to Victron's VRM portal where power production, power output and battery status are displayed. There's also the opportunity to change system settings remotely.
The standard PowerBox supports AC equipment, supplying 230V from 500W to 3000W using the Victron range of inverter-chargers. If required, the PowerBox can be connected to a generator or mains power to supplement the on-board power as this is depleted plus boost charge the battery bank at the same time.
The PowerBox is designed and manufactured in the UK and comes with a 2-year warranty. For further information including pricing, contact [email protected].