Ground / Roof Fixed Tilt Solar Panel Rack for 1 or 2 panels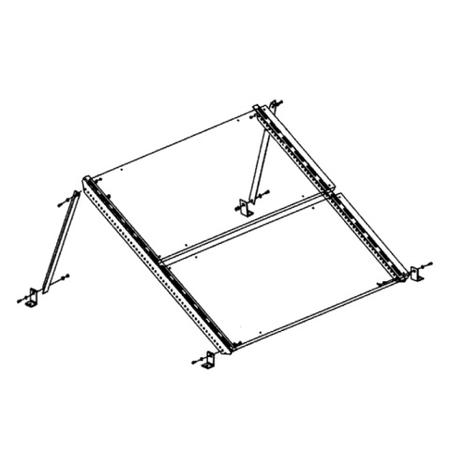 Ground / Roof Fixed Tilt Solar Panel Rack for 1 or 2 panels
Product Information
For mounting solar panels on the ground, boat deck or flat roof, this Unirac fixed tilt frame is suitable for up to two panels or one large panel in a 'portrait' orientation. Once fixed in place, this aluminium frame is robust and able to withstand harsh weather and high winds.
All of the metal hardware, except bolts to attach the frame to the surface, are included. We do not supply these bolts since there are many different ways to do this and we suggest using your preferred method based on your application.
The ground / roof rack works with most glass-fronted solar panels up to a combined width (or length) of 1250mm. If you are using our CS monocrystalline panels, the largest rack (1250mm) is suitable for up to two 100W panels.
Quick size guide:
Cleversolar 135W : 1082 x 796mm
Cleversolar 100W : 1038 x 527mm
Cleversolar 90W : 1302 x 416mm (slimline)
Cleversolar 85W : 1050 x 555mm
Cleversolar 60W : 734 x 535mm
Cleversolar 30W : 556 x 416mm